Sorry I've been so...MIA :( I've had several things to take care of last week and this week too, so I may not be able to post much until...next week? Man I feel like I keep saying this, but for sure I'm going to have more time in 1-2 weeks time.
I went to the wedding I mentioned in my previous post last weekend, so I also have pics of the look and outfit to share :), as well as the long overdue NYC and other haulage stuff....
***
To all Canadians - MAC Colour Forms collection should now be available for pre-order at your nearest MAC counter in The Bay.
I went by the counter last Friday and they had the testers out for the eye and lip palettes to play with, as well as the tester brush sets. The cool eyes set looks really tempting - it contains a nice medium purple with silver sparkles in it, and a light reddish pink shade that I could see myself using.
The fabric exterior of the palettes look a lot better in real life compared with the pictures, but the way the shadow pans were assembled inside look a bit cheap to me :S You'll know what I mean if you see them in real life...I was really tempted to pre-order this when I was there, but decided that I already have so many purples I won't be able to use this as often as I should.
However I really like the look of the brushes this time compared with Antiquitease last Christmas. The brushes this time have sleek black handles compared with the gold/silver ones from Antiquitease. But the brush types are nothing new, the same Basic brush set and Advanced brush set as last year's Novel Twist collection. I have quite enough brushes now so I'm definitely passing these.
Finally here's some pics of the brochure that the MA gave me: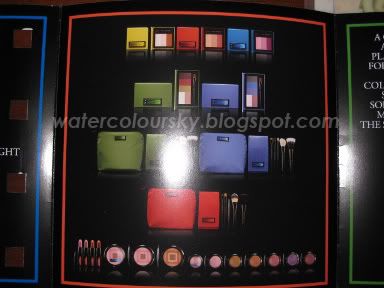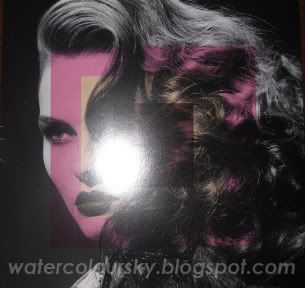 If you like the look of these and live in Canada I'd advise you to check them out in real life and consider pre-ordering. The MA told me it would be best to pre-order since they may not get many quantities in.