A long overdue haul post!


My Everyday Minerals haul: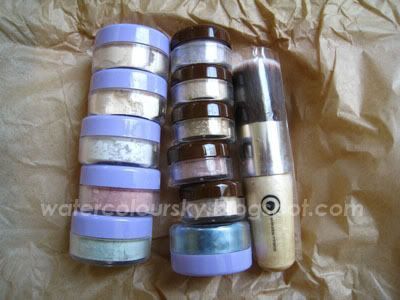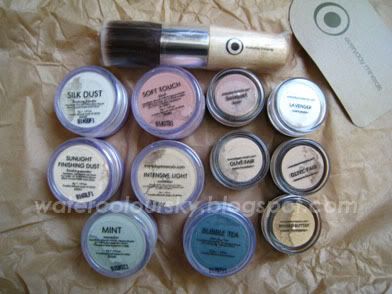 I was sooo surprised at how short the EM flat top brush is. It is seriously tiny! Its almost half the height of my Coastal Scents' Italian badger brush. But it doesn't shed at all, and dries faster than natural hair brushes. Its even shorter than the MAC 187SE. Great for travelling though, I brought it to NYC with me !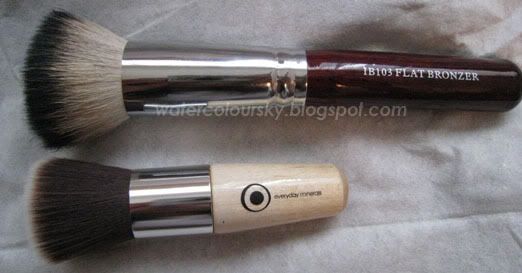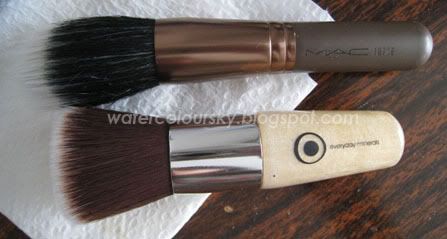 I also got two finishing powders: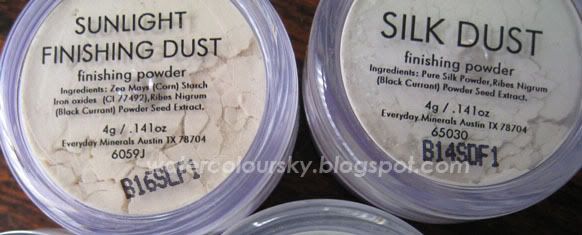 Haven't tried the Silk Dust yet. I hope its as good as Silk Naturals; perfecting powder that I'm hooked on. The Sunlight dust gave me a cakey look the only time I used it; it might be due to the cornstarch formulation but I"ll give it another go sometime.
Some swatches:
I've already used Bubble Tea eyeshadow and found that the colour payoff kinda sucks. But the good news is that its a bit similar to MAC Mutiny pigment once applied, though with less shine/frost.
Soft Touch blush is the perfect hint of soft pink, I used it last weekend for the wedding and it was great :) Its more for lighter skintones though, if I'm flushed or if I got darker, it won't show up on my skin. And as you might know already I LOVE EM's blushes :) so more swatches of Everyday Minerals products can be found filed under the Everyday Minerals label :)
Also, a review on the Lavender concealer is upcoming for Jejuney who requested it - sorry about the wait!
Madame Madeline order:
I ordered this AGES ago...when I went off my ban in the beginning of May. Somehow due to a glitch in Paypal I never got my order until 3 weeks later.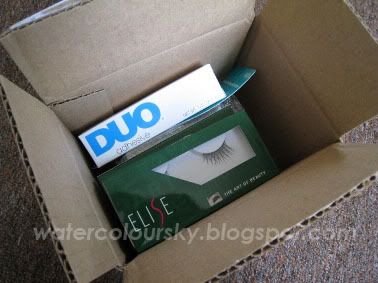 Andrea Modlash 53's (I ordered two but they gave me 2 more as part of the free lash code I guess...)
Elise lashes #79
Elise lashes #55
I actually haven't been able to try any of the Elise lashes yet. But they look a bit too long for me :( I was hoping from the pictures that they would be more like Missha/asian-style falsies:
[edit: in terms of length i mean :)]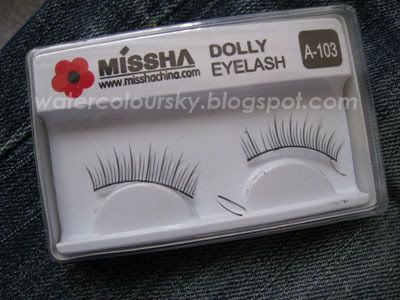 This Missha pair is my favourite, but I have no idea where to get a back up of it :( I picked it up in a random store while on vacation last year.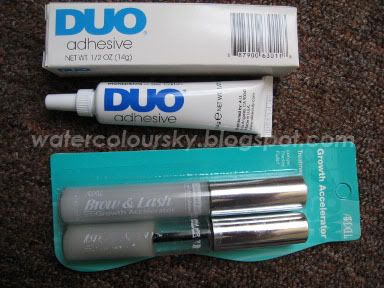 DUO surgical adhesive - just a backup in case I misplace my regular clear DUO adhesive.
Ardell Growth Accelerator - the second one the bottom is my first tube that got all clumpy after 2-3 months :( I never got around to replacing it til now.
Old one on top, new at the bottom - the old one has white specks on the brush = clumpy gooey product :( I wish the shelf life for it was longer. I can't find it in stores, so I've always had to order it online. Note that I use it more as a lash conditioner. I don't find that it makes lashes actually grow longer, but it helps protect my lashes from breaking off as easily.
Speaking of lash conditioners/accelerators, I noticed Talika Lipocils is now sold in Sephora stores in Canada - it wasn't previously. But the price is a bit expensive, I think it was over $30? If you live in Toronto you can get it for $25 in Bloor-Yorkville at Pir Cosmetics on Bellair Street. I found out about the store when searching for MB retailers in Toronto. They have some MB products, but sadly they don't carry the infamous MB Silver Powder so I'll have to ration mine carefully.
And more on the subject of lashes, apparently there is a
product
(not yet FDA approved) that really does make your lashes grow longer. Unfortunately the side effect is darkening of the skin around the eyes....-.- which to me seems pointless. Why swap one problem for another? I'd rather deal with short lashes by using falsies, than have to apply loads of concealer to hide the darkened eye area.
P.S.
To Anonymous from my LORAC fotd post, yep I have on contacts, I'm wearing Freshlook Colourblends in Amethyst :)

Also, thanks Fiona and Starry x2 for your feedback!

As a result, I've put up a poll to see if there would be enough people interested in buying samples in baggies. I'd appreciate it if you let me know what you think :)