Sephora has giftbags containing 10 skincare samples available in-store or online. According to the newsletter in store, you can get the samples after a consultation with a Beauty Advisor. However I just asked if they had any available when I went to cashier and they gave me one :) You can also get them with any online order by using the codes SKINTREATS or RIGHTBAG3 (either one gets you the same thing).
Bath and Body Works in Canada have a 3 for $18 sale on their Signature body washes, lotions, creams and body butters. Their Signature body splashes are on sale for $3 each! Handsoaps are 3 for $12.
The Body Shop at Yorkdale Mall (also Canada) had the blushes from the Fall'08 Deadly Desires collection on sale at 3 for $10! I haven't seen this in any of the other locations I've visited. When I went though they only had a few of the peach blushes left, they had more of the darker rose blush available.
***
FYI...
Sephora lowered the price of the
Givenchy Couture palette
again down to US$35. I guess they realised $45 was still too high for something so tiny! I ordered it originally at the previous price, but once I saw how freaking small the thing was I returned it. I'm still not convinced US$35 is a good value either.
Here's a picture to give you an idea. It looks decent enough online until you compare it with a lipstick (MAC Slimshine) and a quarter. Umm...thats the smallest tube of gloss I've ever seen! The eyeshadows are so tiny it would be a hassle to use the colours without accidentally mixing them up. Its so tiny, I love how they still consider it a $90 value...
***
FOTD using some products from Too Faced's Smurfette collection:
Face
Giorgio Armani Luminous Silk Foundation #3
Sana concealer

Silk Naturals' blush in Lady
MAC Emote to contour a little

Eyes
Pink shade from the Smurfette palette all over lid
Blue shade from the Smurfette palette on outer corners (I used very little as I wanted a more subtle day look)
So Smurfy Face Powder to highlight under browbone
MUFE Aqua Eyes in OL to line top lashline and outer 1/2 of lower lashline.
Smurf You blue glitter liner to line top lids, going over the MUFE liner
Blinc Kiss Me mascara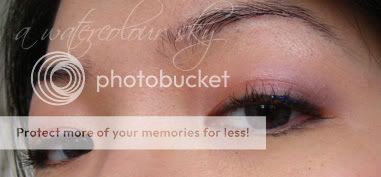 The pink and blue shades I used went on nicely even though I skipped using any base. I love the glitter liner, the brush is really easy to work with because its so fine and has the right degree of firmness to draw a thin line smoothly.
MUFE Aqua Eyes stayed better on my top lids than Urban Decay's 24/7, but it still smudged on the lower lashline :/
Lips
Mood Swing Emotionally Activated lipgloss
The gloss wasn't as bright pink as I had feared, its quite wearable as long as you balance it out by going lighter on eye makeup. Not that sticky either - nowhere near as annoying as MAC.