Thanks to
Grayburn
, several beauty bloggers, me included, will be listing our favourite products of 2008 today:
I was originally going to just list 10 items , but it turns out that was quite diffficult, so I ended up with...a lot more :P Also, you'll probably notice as you read the list that 2008 was the year I discovered Japanese makeup as a lot of them made it on my list.
Eyeshadows
Lunasol Sheer Contrast Eyes in Lavender Coral
This was a Spring 2009 release. I first read about this on
A Touch of Blusher
, and just had to have it! The colours are slightly sheer, and have the perfect amount of shimmer without being over the top. The packaging is one of my favourites out of any makeup line I've seen - a simple but elegant metallic bronze palette.
See my
review
and
look
.
Coffret d'Or 3D Lightning Eyes in Blue Green 03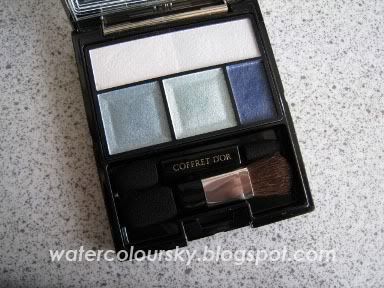 These were the first set of palettes released by Coffret d'Or, also from Spring 2008. These are not as sheer as Lunasol's but the shimmer is still just right. The colours consist of gorgeous green toned blues with a dark blue liner shade. The colours do stand out on my skintone more, so I prefer using it for days when I want something brighter. What I like most about the palette though, is how the white shades can be used as both a highlighter and undereye brightener.
Check out my
review and look
!
T'estimo Frame Impact Eyes in Green
My first Japanese palette! It was a 2007 release but I'm including it here because I only bought it in 2008.
T'estimo is actually now discontinued and replaced by Coffret d'Or. When I used it the first couple of times I was a bit disappointed with the fallout. However since then I've noticed that doesn't happen anymore, so I think once you use up the topmost layer the shimmer in the rest of the product is more finely milled and stays on better. Anyway the reason I love this is because the greens are super pretty, the best green colours I've ever seen (which is also why I haven't bought any green palettes since).
Review and look
MAC Naughty Nauticals pigments in Lovely Lily and Bell Bottom Blue
These pigments were the first ones I ever bought full sizes off! Don't regret it either because the colours are gorgeous and blend well. Lovely Lily is a warm toned lilac while Bell Bottom Blue is a deep blue with silver sparkles.
Review
,
Lovely Lily look
,
Bell Bottom Blue look
Shiseido Hydro-Powder in Violet Visions
The Hydro-Powders make great bases for coloured looks. I know, this is also from 2007 but I only tried it out in 2008 and it was love :P This vibrant purple shade is my favourite, it really brings out the colours in purple looks.
Review and look
, another
look
Liners
Kiss Me Heroine liquid liner
My HG liquid liner! I love how its so easy to apply compared with other liquid liners. The brush is fine tipped and has the right degree of firmness for control. Its also removable with warm water unlike say MAC Blacktrack Fluidline. Thanks to Chiara for
her review
or I wouldn't have heard about this.
See my
review
and
look
.
Lunasol Geminate Liner
My first experience with coloured liquid liner was a bad one (the NYX blue liquid liner) so I'd never been interested in trying any others, until Fuz did a look with this. So far no regrets, the colour is beautiful and the brush and formula is great.
See my
review and look
.
Blushes
The She Space blush in Recoil
My favourite matte blush of the year (not counting Everyday Minerals blushes I got 2007...)Colour description from the website is a cool raspberry pink. Its actually a brighter pink than this swatch shows when I apply it. The pigmentation is amazing, as good as Everyday Minerals and better than Silk Naturals. The only reason I don't use it more often is because I have too many blushes to get through...
Paul & Joe Disney Face Colour in Pink
The Paul & Joe Disney collection was released in Spring '08 in Japan. Initially I wasn't interested in it (don't know why) until I saw pics of it from
Nic
and
Fuzkittie
. I received mine literally yesterday and its so cute! The pink colour is a bright slightly cool toned pink with shimmer. My only complaint would be that the colored balls turned out to be mostly the same colour (not multicoloured like this stock picture shows).
MAC Petticoat Mineralize Skinfinish
My favourite MSF out of my collection! The pink shimmer can indeed be duped with other products I will admit, but the product itself is just so pretty to look at :P I've heard though that NYC does make a dupe of this with similar veining. Haven't seen it in Canada yet though.
Look
and
pictures of Petticoat
compared with other MSFs.
Lip products
Lancome Color Fever lipstick in 302 SOS Pink
This was one of my summer obsessions :) The pink is a bright but not too obnoxious type of girly pink. The formula itself is great, goes on creamy with great colour payoff! My favourite way to wear it is on top of MAC 40s Pink Mattene as a base which brings out the pink even more.
Actual product pictures
,
Look 1
and
Look 2
.
Shiseido Maquillage Sheer Climax Rouge lipstick in PK730
My favourite pink lipstick for a natural look. Its not drying at all, and suits my skintone perfectly (NC25-ish with a yellow undertone).
See my
look
using this product.
Coffret d'Or Combient Rouge in 06 Peach Blossom
Another item I love by Coffer d'Or. Its a lipstick and gloss in one, which I find convenient for times when I'm using a small purse because its the size of a pen. The lipstick is slightly on the sheer side but is super easy to apply as it comes in a crayon-like format. The gloss is a pinkish colour, pleasantly UNscented and not sticky at all (major plus).
See my previous
review
and
look
.
Beauty Tool
Beauty Blender
I haven't even blogged about this yet but its definitely my favourite way to apply foundation now. So far I've used it for mineral makeup wet, and also with the La Mer tint and they both go on much more naturally than if I used brushes / fingers. In my opinion, this beats out any duo fibre brush for foundation application.
Skincare
Clarins Extra Comfort Toning Lotion
I know, this is something else I haven't mentioned previously before. Its a moisturizing toner (contains aloe) that I like using before moisturizer. I also found it doubles up as a nice finishing spray (like Fix+). Gives a nice dewy look when sprayed over mineral makeup. If not for the price I would be buying this in truckloads, but for now I'm just conserving what I have and using cheaper (but less effective) toners instead.
Fragrance
Masaki Matsushima Cherry
My favourite fragrance to date. Its a fruity type of fragrance perfect for day use. I also like unique bottle shape. However its been discontinued from Sephora so I will have to use mine sparingly...Wish I had gotten a backup!
See my previous
post
on it.
So...thats it :) Feel free to share any of your favourites or what you think of the items listed above!
Finally, many thanks to
Grayburn
for organizing this. Check out the favourites list of the other participating bloggers below:
Beautiful Makeup Search
Beauty 411
Beauty Talk
Beauty Tyrant
Binary Star
Grayburn
Life Of A Ladybug
lily loves mac
Make Do Style
Miss Whoever You Are
Perfume Shrine
Platinum Blonde Life
Searching the Inner Me
Slap Of The Day
The Beauty Alchemist
The non-blonde
Urbane Girl