One of the palettes my bf got me
from Japan
was the
3D Lightning Eyes palette
in 02 (blue) by
Coffret D'or
. Its another brand by Kanebo, but a more mid-range brand. This cost about $35, while the
Lunasol palette
I reviewed earlier falls into a more expensive price range ($55-ish).
I love the exterior of this palette - the shiny mirrored finish and the touch of pink.
Too bad the bottom part has to be black plastic. I guess you get what you pay for - the more expensive Lunasol palette was a metallic finish all over.
Inside it has two shades for the eyelid, one for lining/smoking out the eye, and two highlighting shades. The lining shade could also be used for the crease instead if you prefer your own liner.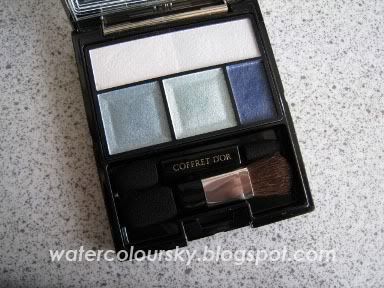 Swatches:
The colours are shimmery, but not glittery at all. The one exception is the lighter highlighting shade on the left - it does have some bigger sparkles in it. The other shades are mostly shimmery and more on the sheer side.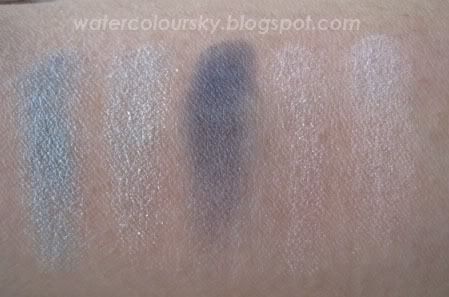 I just did my regular subtle stuff with this....I could have gone more dramatic with this I know, but it wouldn't have been appropriate for where I was going.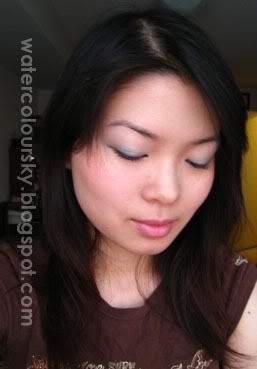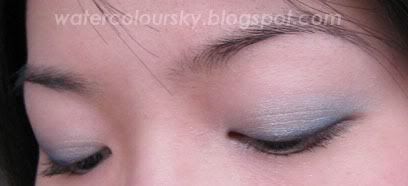 With flash the shimmer is more apparent:
The box does come with a suggested method of application - see diagram below. I like how you don't even need to know how to read it because they provided pictures and numbered the shades accordingly.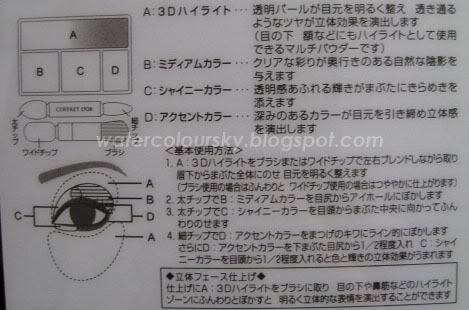 I find it interesting that they suggest you use the highlighting shade to brighten the undereye area. I tried it and although it doesn't cover as much as a proper concealer would, it does help reduce dark circles a bit without giving a cakey/crepey look. I'm having problems finding a concealer that won't crease on me so this will help me out for the time being.
Another thing I like is how it offers 2 dual tip applicators, shaped appropriately for their intended purpose. The applicators are quite sturdy and I didn't have to use my brushes for the eyeshadow shades. I also like how the brush side can be used to blend as well as apply :) I don't think I've ever seen palettes with brush applicators except MAC, and even then they only come with 1 brush, while this has 4 applicator ends.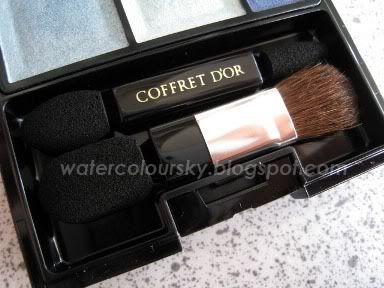 However, if you use the darkest shade as a liner, you would probably want to use your own brush, because there isn't an appropriate applicator for it. I tried using the tip of the smallest sponge to line, but it could't apply the colour very well. Or you can just use it to darken/define your crease.
Overall, if pigmentation matters to you, you might want to consider something else. But I like it because its a versatile everyday palette - I can use it for day, and add the darkest shade later for a smokey night look. Also, I think the sheerness of the colours makes the blue/green colours more wearable for those who normally avoid blue.
Other colours that the palettes come in are pink, purple, gold, and gold/silver.
NicNic
has done a review on the pink one, and other bloggers like
A Touch of Blusher
and
My Women Stuff
have covered the purple variation. My Women Stuff also has the same
blue one
.