Another overdue review, on Shiseido Hydro-powder eyeshadows I bought a few months back.
At first I bought the colours in
Languid Lagoon
and
Violet Visions
: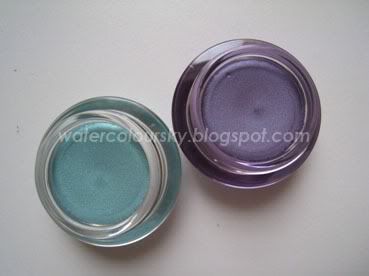 Later I saw that
Facial Shop
was selling for a cheaper than retail price the colours
Bare Pink
and
Glistening Sand
:
(Sorry for the small picture, I don't have them on hand right now but this pic is a crop from my haul post)
Swatches:
Languid Lagoon
- Vibrant green-blue
Violet Visions
- Blue toned violet
Bare Pink
- Warm brownish pink
Glistening Sand
- Light champage-y gold
Pigmentation and Texture:
The colours are quite pigmented, and depending on the colour, can be very vibrant. Languid Lagoon in particular is a very bright blue-green. I actually don't like it too much on my skintone but it looks great when used with darker colours. Also it livens up duller green or blue shadows when used as a base.
Texture is creamier compared with MAC Paint Pots. I prefer the softer texture because I feel it doesn't drag on my skin as much when I'm trying to blend the colour.

Staying Power:
Pretty good - they don't crease on me. The colour stays just as vibrant the whole day when used alone, and definitely helps powder shadow stick around longer.
Side note: I tried using some of these as liners too, and they apply nicely because of the creamy texture. Glistening Sand and Languid Lagoon in particular stand out when applied on the lower lashline. However their staying power won't be as good as MAC Fluidlines, so watch out for that if you have oily lids.
Looks:
1. I've used Violet Visions as a base and colour for
this
:
2. Languid Lagoon before as a base and colour for
this look
:
3. Violet Visions again for this, taken a couple months ago but never posted. I think the inspiration for the purple and grey came from a similar colour scheme done by Princess Peach (aka Her Peachieness).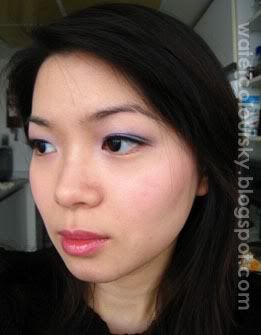 Getting sidetracked here ....but here's yet another example of the difference between using the Foliage setting and without with my Canon Powershot 870:
This is how vibrant Violet Visions looks in real life:

Without Foliage setting, the true colours get washed out and it looks more blah
Again I gotta say love Missha lashes: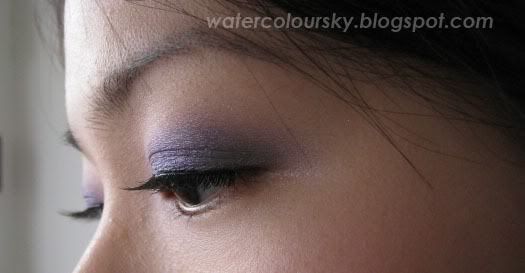 It looks like I used everything but the kitchen sink for this look, haha :P
But really its only because I was using one shade from each of the palettes shown :D