This is for the Canadians :)
I had some time to kill today at a Loblaws Superstore (aka Great Canadian Superstore), so of course I had to check out their new makeup line,
Joe Fresh Beauty
:) Unfortunately I don't have pics of my own because I didn't have my camera with me, but here's what I thought of the stuff.
The products have a really nice clean look as most of them are packaged in either clear lucite or white packaging. Unfortunately, most of the items do not have testers (not in the store I visited) except for the lipsticks, and cheek tints so I didn't get to test out the other products.
The eyeshadows come in singles or trios, and have a nice variety of colours, but colour selection is nothing too exciting if you're already into MAC. The finishes look rather blah, so I wouldn't expect anything frosty or intensely rich. I do like the look of their powder blushes though ($6). I was quite tempted to try the Pink and Rose shade but I'll wait a bit...been hauling too much from other stores lately.
The cheek tints sounded exciting and looked great on the promo model but I was a bit disappointed. The colours are sheer and pretty but I found the texture a bit too oily for my taste. The packaging is on the flimsy side and actually looks like ELF's:
The lipsticks are the most exciting part in my opinion, for a drugstore brand they are seriously pigmented! They had cream, matte, and sheer lippies, but the cream and matte lines have awesome colour payoff, better than some of MAC's lippies. They have a super pigmented matte nude lipstick called Nude (lol), and one called Fuchscia and those two had so much colour with one swipe that I was impressed. I was almost going to buy the cream lipsticks in Coral and Strawberry...but I was being good :)
As
Rae
pointed out the cream lippies come in clear packaging that kinda looks like Shu Uemura lipsticks. However its rather flimsy when you see it in person. The inner plastic part holding the lipstick in all the testers felt loose when you wind up the lipstick, so its definitely not something you want to toss into your purse and carry around.
For a new line they sure have a complete collection of products + brushes. They even have felt tip pen style liners...
and felt tip lip stains!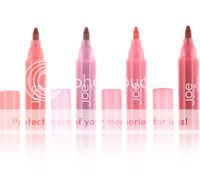 When my current Japanese liners run out I'm going to try their liners, its only $6 after all. I also noticed a new one from Revlon, its nice that drugstore brands here are finally catching on to the felt tip liner trend.
Their brushes have clear handles, which remind me of Clinique's brushes. The prices are cheap but I think they should be priced cheaper to compete with the more established drugstore brands. For example, their slanted eyeliner brush was $8 to Annabelle's slanted brush (my HG) that costs only $6+ in the same store. That brush clearly says its made in China too and doesn't look as soft as Annabelle's so I don't see a reason for the price difference.
Still most of these products are priced reasonably - $4 eyeshadows, $6 blushes / lipsticks, $8 brushes. I am wondering about their return policy though since they do not have testers available. Loblaws does stand by their store brands usually so I wonder if the satisfaction guarantee extends to their makeup as well?