The applicator is a traditional brush style:
I do like the formula, it has the perfect consistency. Some mascaras that are too wet like L'oreal Voluminous are messy to apply for me. Drier formulas like Too Faced Lash Injection are so dry they barely coat my lashes properly. However, the Mary Kay formula is just right, coating my lashes easily without any clumps. The brush is also quite good at separating my lashes, creating a natural but better look.
Here are some pictures to show you what I mean:
Before
- curled, bare lashes
After
- with 1.5 coats of mascara. It looks natural, but slightly longer and more defined.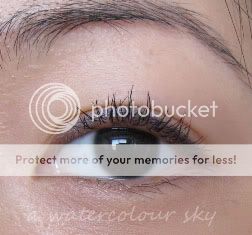 I used it by itself without any lash primer underneath, and it kept my curl properly without making lashes droop at all.
Pros
- clump free
- traditional brush wand is gentle on eyes unlike some others with plastic bristles
- does not smudge on me even without a waterproof claim
- holds my curl, doesn't weigh lashes down at all
Cons
- not for you if you want dramatic, fake lashes type of look
- does not claim to be waterproof