Hey guys! It's been a while, I have lots to catch up on in the blogosphere, and to update on as well. Firstly, I finished grad school, and spent the last 2 months visiting my family in Asia, as well as traveling to some other areas (Hong Kong, Beijing).
Surprisingly, I didn't shop as much as I would have in the past. Trying to be more disciplined about my collection and not buy something that I will only use once. I went through my traincase the other day, and there are just too many things I have that fall into that category.
But anyway, I think these days I'm definitely more discerning about what I like and don't like, which is good for you readers since it means more thorough reviews than ever! :)
Today I wanted to share with you 2 products from the Annabelle Summer collection, the Biggy Bronzer and Hawaiian Hues eyeshadow palette. Both retail for $12.95.
The Biggy Bronzer is just as its name says, quite big ;)
I am loving the wave pattern on the surface. This is not just a flat pattern but the powder surface itself is actually curved, a nice touch of luxe-ness in my opinion.
The powder is very finely milled and gives an amazing glow to my cheekbones. It's not an "out there" type of glow but a subtle sheen.
The colours are a gradient of pinkish brown shades. They are subtle enough that they should flatter any skin undertone. Considering my skin has a fairly pronounced yellow undertone it worked well.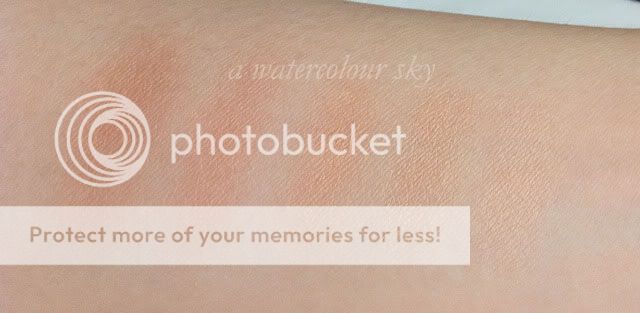 Considering how subtle the shades are, I think it would serve as a highlighter for those with darker skintones. On me, it adds some colour if I use a normal brush with the darker stripes, but in this picture I had used a fan duo fibre brush just to get a highlighting effect.
Overall, I would recommend the biggy Bronzer as a solid addition to anyone if they lack a Bronzer or one in the more pinkish end of the spectrum.
The Hawaiian Hues palette has a nice collection of summer shades, ranging from copper and neutrals to summer brights.
I am not too keen on the packaging for the palette, as it was more of a generic plastic common to most drugstore products. Each eyeshadow strip was also quite thin, and if you like using your own eyeshadow brushes instead of the provided applicators, then it may be tricky to swirl your brush in the pan to pick up colour.
Swatches in the same order as the palette, from left to right:
Some colours are done better than others. The colours I found with good pigment and texture are the copper, brown, silver-grey. The rest, especially the yellow shade on the right were more powdery, coarser textured, and only had mediocre colour payoff.
Overall, I felt that the Hawaiian Hues palette was somewhat lacking in quality colours. If you are just starting out in makeup and want to play around with a wide variety of colours, this could be worth a look, but you may outgrow it fast as you become more adventurous with bright colours (or realize that you just prefer neutrals).