I finally broke out another pair of my amethyst contacts today and wow, i'd forgotten how blurry they can be. I can see alright with them but would never drive with them, because they leave a few blurry spots around the outer edges of my vision.
I love the look they give, because in my opinion the amethyst isn't blatantly obvious, but very subtle. It kinda makes the eye look different but only up close. Not something people can see from a mile away unlike blue contacts. I so wish I could pull off blue contacts though. Not that I want to be a blue-eyed blonde or anything, its more like a different option I would love to have available. Just like saying I wish I could pull off red eyeshadow instead of sticking to pinks and purples all the time.
But anyways, I've tried all of the Freshlook colours before at the optometrist, and I found the amethyst to be the most suitable for me. Blue, turquoise, and green look super pretty but they also make me look like an anime character - not something i'd want to be on a regular basis. I would consider them if the single wear contacts were more affordable. I definitely would not buy the monthlies unless I was committed to wearing them every week at least.
With Freshlook amethyst contacts: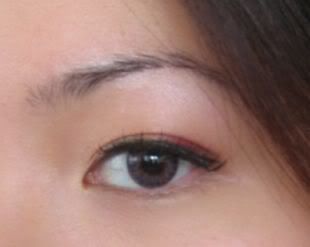 ***
Figure I'd repost a review I did on Acuvue Define daily disposable contacts:
This was from a few months back when I picked them up during my vacation.
I got a 30 day supply of Acuvue Define contacts, which are the ones that are supposed to make your eyes look bigger, and are sold only in Asia. Hope these pics will help anyone who's curious about it.
There are actually 2 types....the Define type that makes your eyes "larger and brighter":
And the Vivid type that makes eyes "bigger and more vivid":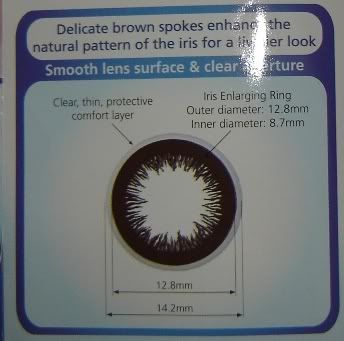 The ones I got were the Define. The store I went to said the Vivid ones, because they were brown, didn't look natural at all so I didn't bother as my irises are naturally super blackish brown.
Pic of the lens: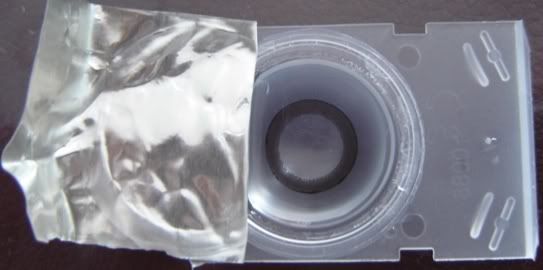 Eye on the left of this page (i.e. right eye :P) with Define contacts in compared with bare eye on the other side:

(Really sorry about my ungroomed brows at that time.....please excuse them.)
Full face pic - not a huge dramatic difference, just subtle: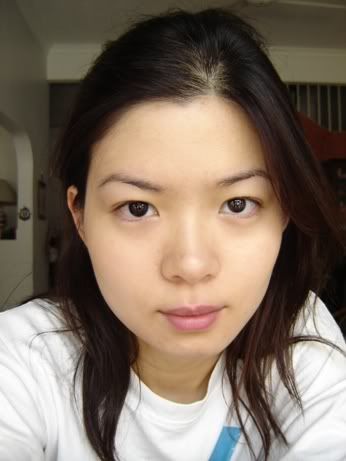 Overall Look with both contacts in....
I know there are tons more sold by Korean companies, but I went with Acuvue because I'd only heard of them at that time, also I think I'd trust Acuvue more since it is known for making contact lenses. But there are other more exciting options out there in Asia like coloured AND iris enlarging contacts.
I didn't know at that time, but I've been reading some websites saying to not wear these special contacts in for too long. Apparently since the diameter is wider than regular contacts, that means your eyes get even less oxygen than with normal contact lenses. I'd imagine that applies to coloured contacts too as I find my Freshlooks have a larger diameter than my regular daily disposables. Not to mention since most Freshlook contacts are monthly contacts, they are made of a thicker material as well = less oxygen permeable. That was why I took a 2 month break before opening a new pair of amethyst lenses.