Haul from Sunday:
NYX single eyeshadow in Lime Juice
NYX single eyeshadow in Lanikai
NYX Jumbo eye pencil in Black Bean
NYX Jumbo lip pencil in Pink Nude
NYX pigment in Turquoise
NYX pigment in Ocean
NYX liquid eyeliner in Electric Blue
Samples from Sephora of Fresh Freshface Primer, and Fresh concealer in #2
I wasn't planning to get any eyeshadows at all....just the pigments. But I just happened to spot Lanikai (the blue) and was struck by how it was such a bright, almost cobalt blue. Had to have it. And then I spotted Lime Juice and man, together they really look like a good dupe of the Nars eyeshadow duo Rated R:
vs
Swatched the Nars one at Sephora and the colours ARE a tad brighter, however I think the NYX one is still pretty close. Just need to pack the colour a bit more. Also, the NYX ones together cost CDN$12, compared to CDN$31 for the Nars duo.
By the way these eyeshadows also look VERY similar to the MAC Paint Pots Pharaoh and Electro Sky from the McQueen collection. I'm sure the Paint Pot colours are more intense though since they are cream-based.
Swatches:
Lime Juice, Lanikai
Electric Blue liquid liner, Pink Nude lip pencil, Black Bean eye pencil.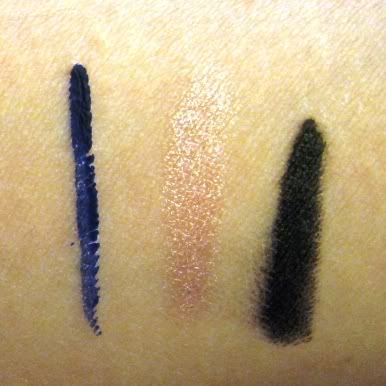 Didn't think of swatching the pigments since there are so many
swatches
of them already...
I originally wanted to get the Jumbo eye pencil in Yoghurt to use as a eyeshadow base, however Pharma Plus drugstore didn't have it :( so I bought the Pink Nude lip pencil thinking that it was an eye pencil....didnt' realise it until I got home. Gonna see if it still works ok as an eyeshadow base. If not, I can probably use it as a lipcolour base at least.