The inspiration pic courtesy of Sephora: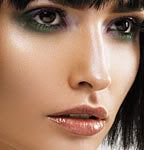 "Day-glo purple" on the top lid, "forest green" on the bottom: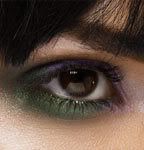 My feeble attempt :S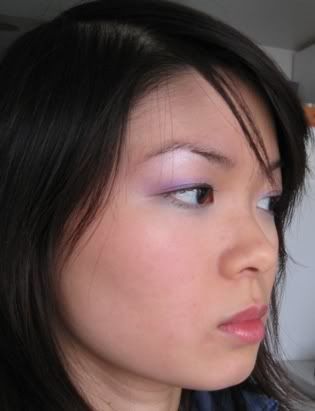 Sorry...my bangs just would not get out of the way for these pictures...
Closeup - colours look all washed out in picture - more vibrant in real life:
The green on the lower lash line doesn't even show up in the pictures :( bleh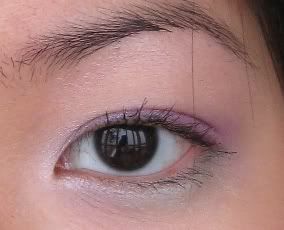 It would've helped if I was using the right green on the lower lid - I was using a more shimmer teal green colour because I didn't have any forest greens with me at that time. But the green showed up way more in real life.
Also I definitely need a more dramatic mascara / falsies, because in the full face pictures, the color overplays the lashes, but on the Sephora model her lashes are equally as dramatic as the eyeshadow.
Not very satisfied with this attempt - will try again perhaps next weekend.
In case anyone's interested, products used this time are as follows.
[Face]
- Everyday Minerals foundation in Light Winged Butter, Original glo formula
- MAC blush in Emote to contour
- Everyday Minerals blush in Weekend Getaway (subtle matte brownish peach)
[Eyes]
- Urban Decay Primer Potion
- Maybelline Instant Age Rewind concealer in Light (failed do its job properly here! :( )
~Top lid
- MAC Silverwear eyeshadow (silver shade with purple sparkle from Royal Assets Cool Eyes palette)
- MAC pigment in Violet for 2/3 of outer lid
- MAC Modern Heir eyeshadow (purple shade from same Cool Eyes palette to contour outer 1/3 of eyelid)
~
Lower lid
- MAC eyeshadow in Zonk Bleu! (teal) mixed with some NYX Green Tea eyeshadow
- Blinc Kiss Me mascara (top and bottom lashes)
[Lips]
- Blistex Ultra Protection SPF 30 lipbalm
- Dior Ultra Reflect gloss in Raffia Orange