As I mentioned in my last post, I ordered a sample kit from Silk Naturals which arrived a few days ago. The shipping cost only $3 for the sample kit, compared to Everyday Minerals which charges $7. However, EM's samples are free while SN's sample kit costs $4, so it works out to be about the same.
I do like how they give you a nice red mesh bag with the order :) I also got a free sample of their Head to toe conditioner.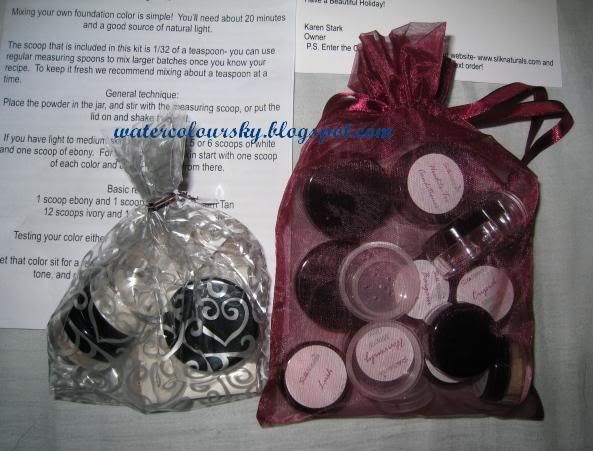 Unpacked:
What I got:
1. Intro Foundation, Finishing powder kit:
Sample bags of Ebony, Warm Gold, Buttery Gold, and Ivory base.
- Empty sifter jar
- Mini scoop
- Instructions for mixing
- Dait Bait Perfecting powder
- Finishing powder
2. Eyeshadows

- Lush eyeshadow, supposed to be a dupe for MAC Humid eyeshadow
- Bargain Pink eyeshadow, supposedly a dupe for MAC Expensive Pink eyeshadow (I love some of SN's names for their product dupes, like this one lol)
3. Samples of Mineral Glows
- Heavenly Mineral Glow, dupe of MAC Stereo Rose MSF
- Cupid Mineral Glow, dupe of MAC Northern Lights MSF
4. Other samples

- Climax blush, dupe of NARS Orgasm blush
- Sleep in a Jar concealer (colour looks similar to EM's Sunlight and Intensive Fair concealers)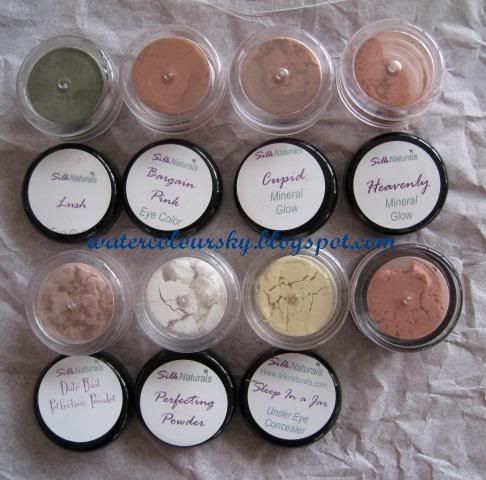 Swatches of eyeshadows, mineral glows, blush samples:
Closeup, same order as before which was:
- Climax blush, Heavenly Mineral Glow, Cupid Mineral Glow, Expensive Pink eyeshadow, and Lush eyeshadow

When swatching them, I realised there isn't a whole lot of difference between Bargain Pink eyeshadow, and the Heavenly Mineral Glow. Bargain Pink just looks a bit more coppery/peachy, while Heavenly is more on the pink side.
Also I don't think Lush is that great of a dupe for MAC Humid. Although I don't own Humid, I've swatched it several times at MAC stores and I remember it being more frosty. Lush seems a bit more flat.
As for Climax, the colouring does seem pretty spot on from the numerous times I've swatched NARS Orgasm at Sephora. Only thing that bothers me is that Climax seems to have a bit too much shimmer compared to the NARS stuff.
As for the other samples, I don't actually own any of the products that these are supposed to be a dupe of, and I don't remember how they look so I can't really compare them as such. But hopefully these swatches will help give you an idea of how similar/dissimilar they are to the real thing.
Also here are some swatches of the foundation types in case anyone is interested...
From left to right: Ivory, Buttery Gold, Warm Gold, Ebony
I find that Buttery Gold is yellow based, Warm Gold is more brown yellow, and Ebony is more reddish. Tried mixing some up today, and so far I came up with 7 scoops of Ivory and 1 scoop of Buttery Gold. I'm not 100% sure if its light enough yet, as I think the best test will be when I use a proper face brush to apply it. When mixing it up I was just swatching it on my jawline for comparison.
I have a feeling that Buttery Gold isn't yellow enough for me....although maybe it just means the colour is too dark and I just need to add more Ivory to it. This whole custom mixing process is not that difficult by the way, I'm just lazy to actually try it on properly since I've been staying home all day. I'll update with more details on it once I actually use it in a FOTD :)