QUO is a brand of cosmetics found in Canada at Shoppers Drug Mart. They have a duo fibre brush selling for CDN$20, which is much cheaper than the MAC 187.
A few days ago I saw it on sale at 20% off, so I figured why not give it a try?
The brush is labelled as a bronzing brush. The size of the brush is comparable if not a bit bigger than the 187 and the Sephora version.
I noticed that the dark coloured hairs are brown hairs mixed in with the black. The feel of the fibres are soft, but they feel ...more fake/synthetic...compared with the 187 or Sephora brush. I know the 187 is partly synthetic hence the term duo fibre, but somehow this QUO one has an even more synthetic feel.
So I didn't even get around to actually using it with makeup, because all I did was try brushing it over my arm, and this is what happens: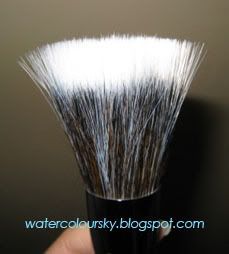 And it gets more and more static the more you brush it over something.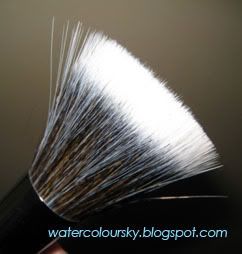 So with that I didn't even bother washing it and trying it with makeup. If the brush is going to get static charge after using it a little, I can't work with that! It left an unpleasant feel on my skin, which is a definite no. I was quite disappointed with it, and am definitely going to be returning this. If I really need another duo fibre brush I'll try something else cheaper than this like Coastal Scents perhaps.