I don't know what to get my bf for Valentine's Day! Any suggestions please? He's really hard to shop for because he has very specific taste in clothing. Its also hard to get him something related to games or movies because if he wants something, he'll just buy it the minute it comes out...
Anyway I woke up today with really messy bed hair. I like it though, it almost looks deliberately done :) Too bad it doesn't happen consistently all over. I liked the left side but the right side was too messy to post pictures off haha...
Went for a very natural look today. Usually I like to experiment with colours on weekends, but today I was meeting an old friend for lunch so I wanted to look like a nice version of myself rather than a colourful version. It felt a bit weird forcing myself not to use more eyeshadow colours. The thing is I have this hang up about wearing bright colours around friends I haven't seen in a while, or people that I don't know too well. I don't want the first / last impression of me to be like "Whoa, she has some really blue eyeshadow on...". Do any of you ever feel that way?
What I used:
[Face]
Everyday Minerals Intensive Light concealer
Silk Naturals foundation
Silk Naturals Perfecting Powder
MAC Emote blush to contour
Maybelline Dream Mousse blush in Whipped Strawberries
[Eyes]
Everyday Minerals Sunlight concealer
Maybelline Dream Mousse blush in Whipped Strawberries (whatever remained on the brush after applying on face)
Blinc Kiss Me Mascara
[Lips]
The Body Shop Shimmer lipbalm in Cranberry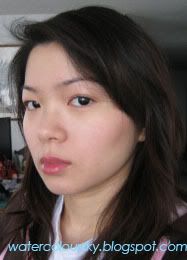 I look very ulzzangy here....it wasn't intended at all. However, I was using my Acuvue Define circle lenses which definitely contributed to the effect.
Anyway, if I hadn't been running late, I would've added some white eyeshadow on the lower lashline to make myself look more wide awake.
I do like how its a very matte look, which means I can use it for situations like when I need passport pictures taken. I would definitely stay away from shimmer when doing pictures to avoid looking like an oil slick. I would swap out the mineral makeup for liquid foundation though, because I don't want the titanium dioxide to reflect the flash.
Please let me know what you are doing with your significant others for V-Day, because I have no idea what to get / do for mine...