I had 3 of the most stressful/tiring days at work so far....
so I caved last Sunday :P
BUT, hey I made it to 33 days without buying any new makeup lol.
My haul from Sunday - I went to the MAC Pro Store and got:
1. Pink Pearl pigment (my first full size pigment!)
2. Lip Erase in Dim (I love it :) works way better than concealer for me).
3. samples of Naval Blue pigment and Silver pigment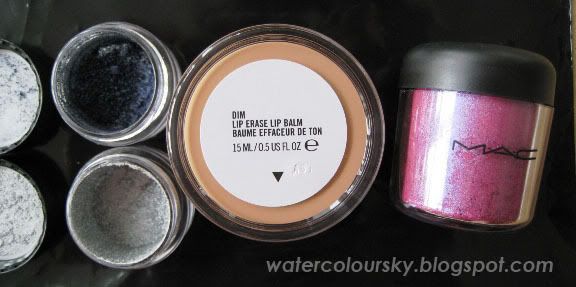 Also, my skin keeps acting up (due to stress probably) and Everyday Minerals Intensive formula just doesn't provide enough coverage in those situations. So, I decided to order some samples from
Buff'd Cosmetics
, since I've heard they have heavier coverage. Samples were $1.50 each, including shipping.
And finally, I decided to venture onto
Facial Shop
. I'd been avoiding that website during my ban because I knew I would find something I wanted there. Of course, I found several things I wanted:
Shiseido Hydro Powder in Glistening Sand, and Bare Pink (they were listed for $18.99!)
Laneige Snow Radiant Blusher in 002
(a baked blush similar to MSFs)
Christian Dior Diorissime Ready-to-Wear palette from Fall 2007
On a non-makeup note, I wanted to order some circle lenses last week, but none of the styles I wanted were in stock anymore :( I'll have to wait until they email me when their new stock arrives.
And I already have a list of stuff I need to shop for this weekend -
Naughty Nauticals @ MAC
; a pink lipstick because
NicNic
and
Psychoexgirlfriend
just make it look so good; and a present for the bf's bday in a few weeks. I know what to get him, but I don't know how to choose it :S Guys are so hard to shop for!