I've finally tested most of the brushes I bought from Coastal Scents. There are two I still haven't had the time to make use of - the refillable dispenser brush and the angled chisel eyshadow brush. These are what I've tried so far.
1. Eyeliner brush
2. Facial Cleanser Brush
3. Italian Badger Buffer Brush
4. Duo Fiber Stippling Brush
1.
Eyeliner brush
I was annoyed with this brush at first because when it arrived the bristles were bent due to the inadequate packaging of the shipment. However I managed to reshape it after washing so it looks alright now.
This brush works well for lining. The tip is firm enough that you can draw either a thin line or a thicker line depending on the pressure you put on it. Also I like that the handle is short, that way it doesn't get in the way when you're leaning close to the mirror to draw that line.
Overall: Decent lining brush
Here I used it with Indianwood Paint Pot to line my upper lashline.
2. Facial Cleanser Brush
The brush head is a good size for exfoliating my face, and it does come with a cap which would be handy when travelling. However, I don't like this. The ends of the bristles feel rough on my face. I would use this only with a light hand, but still I feel a bit paranoid I might be doing more harm to my skin than good.
Overall: Definite no-buy
See those little fibres that are longer than the rest? Looks like sloppy worksmanship to me.
3. Italian Badger Buffer Brush
From L-R: MAC 188. MAC187SE, Sephora Stippling Brush, Coastal Scents Duo Fibre brush, Coastal Scents Italian Badger Buffer.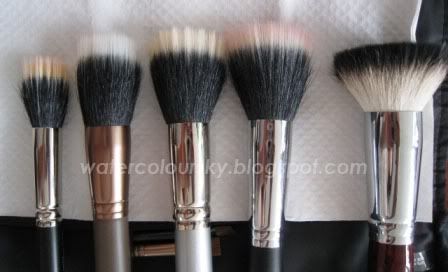 The italian badger buffer is quite fluffy yet dense at the same time. The bristles are nice and soft. This is my first flat top/buffer brush, so I'm no expert at using it. I find that I need to use a stippling brush first to apply the mineral makeup on my skin, before using this to 'buff' the foundation in. I can't use this to apply the foundation directly otherwise my skin looks cakey. But for buffing purposes, it works quite well.
Overall: Great buffer brush, especially at that price.


4.
Duo Fiber Stippling Brush
You might notice from the previous picture, and this one, that the CS brush looks a bit more fluffy than the other duo fibre brushes.
L-R: MAC 187SE, Sephora Stippling brush, CS Duo Fibre brush
Actually, in real life the brush head is quite a bit more fluffy than my other duo fibre brushes. The bristles do feel very soft and gentle on the skin. However I actually find it hard to apply mineral makeup with it. Its hard to blend foundation on the skin with it because the bristles don't offer much control over the application. As a result, my makeup looks quite cakey if I try to use this.
I don't like using this for blush either. The head is too fluffy so it distributes blush over too large of an area, over my entire cheekbone which I don't want. I want the colour to just be on the top 2/3 of my cheekbones because otherwise my face just looks too red/pink for my taste.
So....I didn't think I'd say this, but I dislike this! I don't even know what to do with it now, since I can't use it for foundation, blush, or powder. Maybe I'll try it applying liquid foundation with it and see how it does.
Overall: Would not repurchase or recommend.
Note that a common complaint for this brush is shedding and some bleeding of the black dye during washing. The brush shed a little when new, but after washing it 1-2 times it didn't shed anymore. It does turn the water a little grey when washing, but not much. Doesn't leave a stain on the paper towel on which its drying either so that isn't a problem.
***
I have noticed though, that Coastal Scents brushes tend to generate very polarized feedback. Either you love them or hate them. It seems that the quality of their brushes can vary widely from batch to batch. So...read up on other reviews first before you decide to buy!