Some pictures from my trip -
These are all from Day 1 - because Day 2 was pure outlet shopping at Woodbury Outlets, and we only had 1/2 day on Day 3 which was spent walking down 5th Avenue. Unfortunately there won't be pictures of people except a couple of me lol, to protect my friends' and the bf's privacy.
Early morning flight from Toronto to Newark Intl Airport.
On arrival, we took a bus to the PATH station and from there the PATH train to World Trade Centre station:
The station was right next to Ground Zero. It was a bit sobering seeing how empty the place was. Its so apparent that something big is missing - with all the tall buildings around and a sudden open spot.
Security standing guard at the fence surrounding Ground Zero:
Another view of the fence surrounding GZ...
Walked to our hotel, which was a few blocks away. Pic of the lobby:
Put away our things and started heading to our first stop,
Century 21
department store.
Its like a larger version of
Winners
(Canadians will know what I mean). Lots of mid to high range brands at discounted prices. None of the brands struck my fancy though....I didn't really find it that interesting since its the kind of place you have to take time to browse through.
Lunchtime came early since we didn't get to the hotel til 10, and didn't leave til almost 11.
I think the place we stopped at was called Cafe Toda. My friends really liked the place. It had a huge selection of food to choose from, and you could either grab and go or sit at the tables upstairs to eat. If there was a place like that where I work that'd be perfect. They had a sandwich counter, hot food bar, salad bar, and lots of other things. The food bars were charged by weight too, about $6.49/lb of food minus the container weight.
Aerial view - the whole ground floor is just the food selection alone and cashier. You pay for your food before heading upstairs to eat.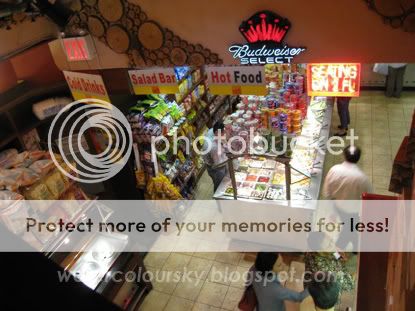 After lunch we walked some more up Broadway Street
Cop car labelled "Department of Homeland Security" in small letters outside McD's. Guess it was lunchtime for them too.

I think this was part of Chinatown
Massive painting (? I think) of GTA4
Stopped for a break in Little Italy:
I had a iced mochaccino and split a tiramisu with my friend:
I wasn't trying to be cute but somehow the pic came out funny.
Times Square
Kebab in a bun...a kebab-dog?
Spiderman in Toys 'r us
More Times Square at night:
Went to
Carmine's
for dinner. Forgot to take a picture of the actual restaurant exterior because I was so tired by then. It being a Friday night, the place was incredibly packed, we had to wait 45 mins:
Taken while waiting at the bar to be called for our table.
Food!
Going back to the hotel via creepy looking subway system:
Day 2 - no pictures lol. Well all we did was drive up to Woodbury Outlets and spent the whole day shopping there. We were so focused on shopping that none of us remembered to take any pics in the outlet area, haha.
Some pics from Day 3 - 5th Avenue area
The Waldorf-Astoria hotel. I wouldn't have thought anything of it, but I felt like taking a pic since it was the hotel featured in the movie Serendipity.

One more street pic: