i saw the Cool Heat collection today! I happened to be in the area of the MAC Pro Store on Queen West, and they had the collection out for sale!
As excited as I was, I decided to not get anything. The only outstanding colour from this collection was Solar White, to be honest. That had a almost duochromish look to it and would make a great highlight. But I wasn't about to spend CAD$16.50 + tax on a highlighting colour when I have so many cheaper ones already.
Didn't want to get Gulf Stream or Cool Heat, because I knew that type of strong teal / green colours are not my taste and I'd probably use it once then forget about it.
The other colour I was trying to decide on was Blue Flame. It was a really pretty dark blue...until I swatched some Bell Bottom Blue pigment to compare with it. BBB blows just about every blue eyeshadow out of the water in my opinion. Its just too gorgeous of a blue with silver sparkles, every other blue looks so blah beside it (in my opinion).
Check out the following swatches of the eyeshadows :) and also tell me what you think about BBB vs Blue Flame!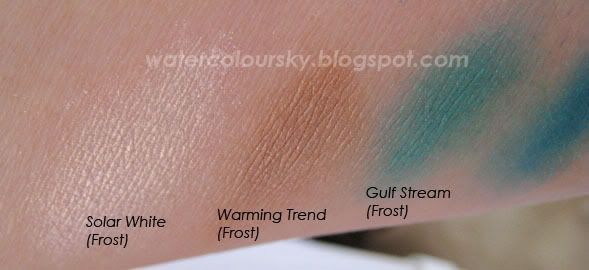 If you're wondering what happened to Warm Chill, I was too excited trying to decide on Blue Flame, so I forgot to swatch Warm Chill lol.
P.S. It might just be me, but in real life Climate Blue looks very similar to ELF's Periwinkle eyeshadow. CB is perhaps just a tad more indigo-ish than Periwinkle.
[Edit]
I also had to check out the new Neon pro pigments that
Temptalia
and
Specktra
have been posting about the past two days.
These are NOT eye-safe, so that was rather disappointing for me. Additionally one of those colours is also not lip-safe.
I didn't get pictures of the swatches mostly because the swatches sucked. To me the colour payoff was not that good, maybe because these are matte pigments. I keep seeing these really pigmented swatches on Specktra/Temptalia, but I found that when you try to blend the colours on your skin the colour is actually much sheerer than you'd expect.
All in all, I doubt these will be of interest to the average consumer like us. Since they aren't eye safe, I don't know where else you could use these pigments, other than maybe to make your own customized nail polish? Although I guess for the orangey-coral pigment, it would actually make a nice coral blush. When swatched it gives a bright but wearable matte coral flush.