Everyday Minerals Lavender concealer
(review for Jejuney...finally i got around to using it...)
From the website:

Lavender Color CorrectorNeutralizer for yellowish undertones. Helps relieve the sallow look in olive skin tones.
(Pictured here with EM's Light Intensive foundation and EM Sunlight concealer)


I got a sample of the concealer after reading somewhere on
Musings of Muse
that she uses a Lavender base powder (from a different brand) to brighten up her complexion.
Also from the description on the website, I wanted to see if it would neutralize my uneven skin tone. I tend to have pink toned skin on my cheeks but yellow-olive toned skin on my t-zone, especially around the chin.
Tried it on one side to compare with the other side (no foundation on top in these pics) and it does make a difference. The duller skin around my mouth and chin looks a lot closer to the skintone on my cheeks. The difference may be slight for some but my uneven skin tone has always bothered me...so its nice to have something that helps it a bit now.
Without Lavender concealer
With Lavender concealer
I wouldn't use it all over my face though - tried it and it makes my face look paler than my neck. Could work if you are going to put some on your neck as well, but i wouldn't because it'd probably rub off on my clothing.
Just out of curiosity - I tried using it for undereye circles and concealing blemishes. As I suspected, it doesn't do much for those lol.
***
Quick note on the
Everyday Mineral's perfecting powders
- I don't like them :( They apply a bit chalky on my dry skin. I guess it works better on more normal or oily skin types.
The ones I got were the Sunlight finishing dust and Silk Dust.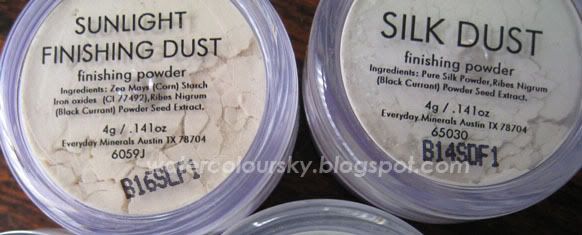 Silk Dust applies better than the Sunlight dust. However I compared both perfecting powders with
Silk Naturals' Perfecting powder
and SN's powder applies better on my dry skin. I'll save those EM powders for days when my skin is less dry, but it'll take me awhile to finish them - it already takes me forever to finish the sample foundations.
***
FOTD
using some of my new eyeshadows:

[Eyes]
Urban Decay Primer Potion
EM Bubble Tea eyeshadow, inner 1/2 of eyelid
MAC Blue Flame eyeshadow, outer 1/2 of eyelid
a bit of MAC Steamy eyeshadow to help blend the two
Blinc Kiss Me Mascara
[Face]
Buff'd Foundation in Sand
Silk Naturals' Perfecting powder
Everyday Minerals blush in Soft Touch
MAC Emote to contour
Excuse the messy hair :P
Should've blended more on top :S
I find that EM Bubble Tea doesn't stay well when applied dry even with UDPP as a base. The colour is pretty though, and a bit similar to MAC's Mutiny pigment when swatched on my skintone.
Top: MAC Mutiny pigment
Bottom: Everyday Minerals Bubble Tea eyeshadow