I wanted to review the...


Clinique Moisture Surge Extra Thirsty Skin Relief Gel


because I've used it for awhile now...and its almost out lol, so it seemed about time.




Packaging:



Comes in a plastic jar with metallic lid.

Ingredients
for those who read labels like I do :)
Was surprised to notice it contains some dimethicone, as the gel texture feels nothing like the usual silicone containing products. Its probably present in only a small quantity since it is further down the list.
Label claims:
100% Fragrance free, allergy tested, oil-free gel, boosts moisture...etc etc.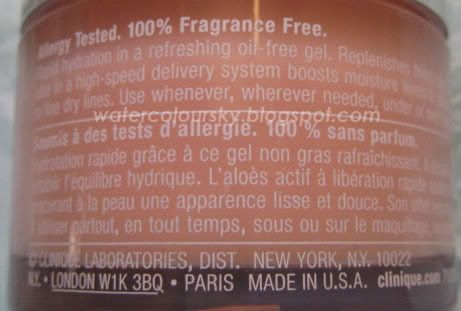 Like it said on the jar, its a nice lightweight gel without any fragrance. I like to store it in the fridge because it feels refreshing to apply it cold. You can use it as either a moisturizer or apply a thick layer and leave on as a moisturizing mask.
Does it work?
The product is exactly what I would want in a moisturizer...lightweight and refreshing. It also absorbs quickly into the skin as the label claims. But....unfortunately, it just doesn't moisturize enough! I don't know why, but after I've applied it, my skin will start feeling dry again after a few minutes. Even if I reapply more, the dry, somewhat tight feeling stays :(
As a result, I've been going through a lot of the product. I used over 3/4 of the jar in 2 months already:
2 months ago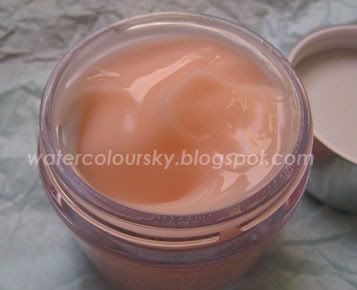 Right now
That for me is too fast. Usually with Lancome's Aqua Fusion, I go through 1/2 in the same amount of time. and it doesn't leave that annoying tight feeling on my skin either.
I have sorta combination skin, with occasional dry patches on my cheeks, so I think this gel would work well for people with oily, normal, or regular combination skin. However if you have dry patches or dry skin, don't go for this product. Despite the "extra thirsty" in the product name, it isn't helping "extra thirsty" skin like mine.
Also, this product does not contain sunscreen. You'll have to use a separate sunscreen under this if you are wearing it out during the day. I tried using my Shiseido Ultra Protection lotion under this, but that didn't work well. The sunscreen has a mattifying effect, and this cream does not moisturize well enough on its own anyway, so combining the two just made my skin dry and flaky :(
Overall:
You'll like this if you:
- have oily or normal/combo type skin
- are looking for a lightweight moisturizer
- already have a separate sunscreen to go with this
You won't like this if you:
- have dry skin or combo skin with dry patches
- want the convenience of sunscreen + moisturizer in 1 product
***
P.S. I've been watching the Olympics for the past few days, and wow Michael Phelps is amazing. I used to be a mega Thorpe fan but since he retired, guess its just Phelps left to watch now. Can't believe how he's 4 for 4 with all world records. I wish Thorpe was still competing...there's nothing more fun to watch than a good rivalry :P

Besides swimming, I love watching gymnastics and diving too. I wish they wouldn't have these events all at similar times. Even though the stations try to cover both by cutting back and forth, they're not able to show every athlete that way :( Perhaps I should've gotten TSN...