Besides the re-release of MAC Petticoat this October, I'm now also excited about the
Ungaro collection
after seeing these pictures on Specktra. The bright pink lipglass, cream colour base, and beauty powder look like products I could make use of easily.
And, did you guys hear? MAC could possibly be doing a
Hello Kitty themed collection
in 2009! I'm actually not a huge HK fan, (despite the fact that I bought those socks), but I think HK branded MAC makeup would sell really well, especially if the promos and packaging are done right. If the packaging is designed tastefully (not too cutesy), and without compromising quality (please no stickers like with Fafi) these could become real collectors items. I hope this rumor is true...but for the sake of my bank account I sorta hope it isn't :P lol
I'm also excited about the release of the Cremesheen lipsticks this October. I'm so sick of seeing so many lipsticks with Lustre finishes being released, Lustres have the second least colour payoff besides Glazes, and its too slippery to spread well on my lips :( According to the
Specktra forums
, Cremesheens are permanent, and supposed to gradually replace Amplified Creme lipsticks (the highest colour payoff). I personally haven't tried Amplified Cremes, but thats because none of the colours appeal to me.
In fact, there are a few things I really wish MAC would make permanent or expand on...
1. Mattene lipsticks.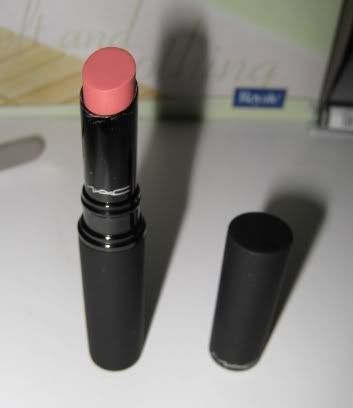 These are the only lipsticks that show up true to the lipstick shade on my naturally pigmented lips, even with the lighter shades like 40s Pink and Flattering. Most other lipsticks (even other mid-range brands) are too sheer. I could use Lip Erase underneath, but its a pain to carry around two products for touchups, in addition to lipbalm and gloss.
I know they have some coming out with the Cult of Cherry collection, but those shades (imo) are horrible. They're super dark, vampy shades that'll make me look like an extra from a horror movie. Also, dark coloured shades from cheap drugstore brands show up on me with no problems, so why should I fork out the $ for these? MAC, please come out with some light coloured shades!
p.s. And please also make 40s Pink permanent.....pretty please?
2. Softwash Grey pigment.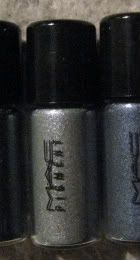 Such a gorgeous duochrome colour, grey with purple duochrome. I had originally gotten the Holiday pigment set 2007 with it but decided to return it because I was new to pigments at the time and found them messy. I also didn't think I would ever use 3/5 of the colours there. Now I wish I'd kept it, because I could probably have sold the other pigments separately anyways. I do have a sample size from Emilee but I really would like a holiday size amount lol.
3. Emote blush.
The PERFECT contouring colour. Its a cool gray-pink shade and doesn't have the warm undertones which I hate in contouring products. Its a cooler shade it looks like shadow, if that makes sense :) When applied under cheekbones it seems to "hollow" out the area. I've heard MAC Strada blush may be a good substitute though according to Nicnic.
4. Volcanic Ash exfoliator.
It exfoliates and cleanses at the same time. As I mentioned earlier its not without its faults, because there are others that'll exfoliate more than this (like the aspirin mask). However this is a nice midweek scrub for me, its less intense than using the aspirin mask twice a week, and doubles as a mask if I leave it on for a few minutes before washing off.
5. Mineralized Skinfinishes.
I don't care which ones, but just make some permanent. It would save my wallet money in the long run, as I think the reason I want to collect them is because they've always been LE. After all, there are many similar products from Laneige, Laura Geller etc.
I think though that there will be one coming out this October that is permanent...yay!
I am curious though for the MAC addicts out there...
What LE MAC product(s) do you wish MAC would bring back?

And: What do you wish MAC would stop bringing back?
I wish they'd stop redoing Jardin Aires...I keep seeing it! Maybe they made too many the first time and have an overstock? lol.