A small Adam Beauty haul...

...which was a rather disappointing haul. I had high hopes for these but didn't really like any of the items I got in the end.
Majolica Majorca Lash Gorgeous Wing mascara in BR777, an LE colour in golden brown
The tube is pretty but thats about it. The mascara is a fiber type mascara. I was afraid it would irritate my eyes but it was alright after all. However what disappoints me is how the colour doesn't show up on my lashes at all.
I think it does lengthen them slightly, but very naturally. No volume whatsoever and it practically took a million coats to get to this length.
Before
After about 100,000,000 coats
The glitter mascara is from Majolica Majorca's Winter 2007 collection, also LE Its basically a clear mascara with loads of silver glitter.
2-3 coats of this (no mascara underneath). Glitter is actually rather subtle.
Last item - Visee Glam Hunt Eyes quad in G5. From Visee's Fall '08 collection.
From the
pics
I've seen online I thought this would be a great subtle smoky eye. It probably could but these colours in particular just don't suit me :(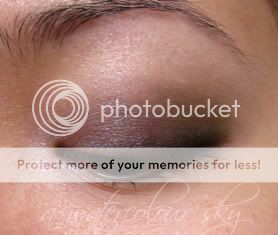 The colours just look all muddied together on me...even though I followed the diagram on the back of the box. They seem to look alright on the model pictures though. I guess I should stick with non-smoky looks. Oh and forgive the crappy blending. I tried to use the sponge applicator provided to do the whole thing because I was lazy to find a brush but it didn't work out so well.
Anyways I got my Sephora and Facial Shop HK order today (yay!), so there will be more positive reviews coming :)
P.S. A reader, mk wanted to know where I got the Shiseido Sheer Contrast Eyes palette from - I got mine from Adam Beauty
here
. Hope that helped!